KRM
Geza
Geza Jäger was born on 7 March 1974 in Düsseldorf. She had a happy childhood, surrounded by her loving parents and brother. She is passionate about drawing. At 14 years old, she fell seriously ill and, after spending six months in a hospital, she emerged with an incredible zest for life. She went back to school, played the piano, learned the guitar, even sang in the streets and she never stopped drawing. But she felt out of place in her environment. She felt compelled to "leave". In 1994, she studied in Bordeaux, at the École Nationale supérieure d'architecture, then left for Weimar (ex-RDA), where she enrolled in the 'Bauhaus' school of architecture. Her next stop was at the University of Hildesheim where she followed an interdisciplinary and intercultural curriculum of art and applied sciences. Geza hadn't found her own path yet.
Two years of travel and internships followed, notably at the Open-Eye-Gallery, Liverpool, where she organized Sebastiao Salgado's "India 50" exhibition. She was then invited by the UNESCO "World Congress on Education Through Art" in Brisbane, Australia, where she created a performance based on poetry, drawing and singing: Work in progress in process. Extending her stay, she discovered the traditional art of the Aborigines. Returning to Hildesheim, she published 'Art and Dance and Music – Aboriginal Culture Emerging from the Crust of Earth – A Culture that is Nature, a Nature that is Culture – Art as a tool'. The essay was published in a well-known book, Kultur – Natur in Wort und Bild, by Göttert, Diepenau, in June 2000.
She left again for a new start in Berlin where she participated in the founding project of the Ecole du Louvre in Berlin. This chapter concludes with a thesis defence on: Foreign Art in the European Context – Presentation and reception of traditional New Guinea art in the example of the collection of the Ethnological Museum of Berlin. 
But what about now? In 2002, she accompanied a friend to the Salon des Indépendants in Paris. That's where she met Chérif. Little did she know that they will soon be KRM.
Chérif
Mohammed Chérif Zerdoumi, known as Chérif, was born on 8 May 1958 in Tébessa (Tbessa), Algeria. His father was one of the local officials who managed a wilaya located between the Aurès massif and the Algerian-Tunisian border. His mother was a housewife. He has six siblings. His childhood might have been happy, but war complicates everything. In 1964, his family left Algeria to France, his father was given a position at the Castres subprefecture, Tarn.
Unstable, the young Chérif had an erratic school education. He found refuge in sport but always felt strangely drawn to visual arts. At the age of 12, he made his first sculpture. His grades started getting worse and worse, so his father decided to place him in apprenticeship in the construction field. In 1981, Chérif married Rose, the daughter of Spanish immigrants. Together they had a daughter. Chérif had to be a father too early. As he wandered, his ideas rushed and made him doubt. He felt the need to fill his flaws by compiling books and specialised journals, the result was that he regained confidence. In 1983, he opened an antiques gallery. It was the place for some unlikely encounters, notably with one of the biggest poster merchants of the time. Chérif bought roughly 80,000 posters from 1978 to 1990 which is equivalent to twelve tons of paper! He also became friends with Gaston-Louis Marchal, painter, writer, and spiritual son of the sculptor Zatkine.
After a trip to Bulgaria where he visited countless artist workshops, Chérif was again questioning his own identity. He acquired an abandoned spinning mill in Boissezon, near Castres, and retired there to devote himself fully to his art. In a deep artistic solitude, he developed a crude, neo-primitive form of expression. His primary materials are wood, plastic cans, tar, paint, and glue. He created like a madman, throwing himself into graffiti that he integrated in his collages and relief paintings. During this period, he exhibited relentlessly. In 2002, Chérif was accepted at the Salon des Indépendants, in Paris. It is where he met Geza. Little did he know that soon they will be KRM.
For more information: https://www.geza-cherif.com/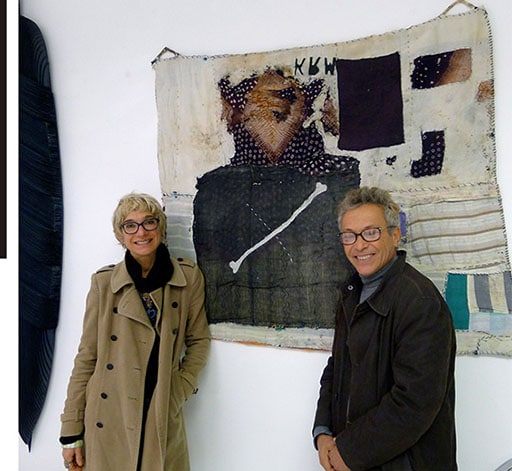 Pour toute demande complémentaire, contactez moi :